---
What is tepi and how do we use it?
What is a Tepi and how do we use it?
The Tepi is a two-person snuff applicator used for ceremonial rapé sharing in the forest. It is designed for blowing rapé powder into someone else's nostrils and they come in various models. In the past, indigenous people used long bamboo or reeds for this purpose. The Tepi is now a common and less dramatic alternative for sharing rapé.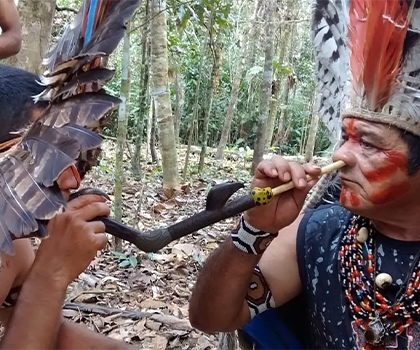 To use a Tepi, one person loads it with the right quantity of rapé powder while the other tilts their head back and places one end of the Tepi into their nostril. The first person then blows the powder through the other end of the Tepi, which is repeated for the other nostril. It's important to use the Tepi gently, adjusting the strength of the blow as needed. After use, the Tepi may be cleaned for hygiene. The Tepi is an essential tool for experiencing the effects of rapé when used correctly.
BROWSE OUR CATEGORIES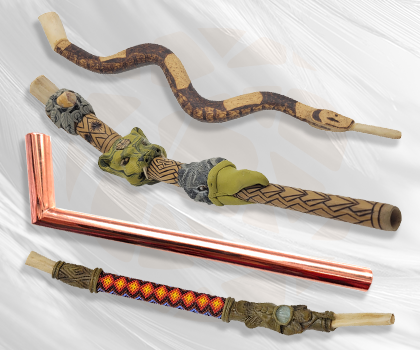 Different models of tepi applicator
Tepi applicators are a type of traditional snuff administration device that have been used for centuries by indigenous peoples of the Amazon Basin for spiritual and medicinal purposes.
Bamboo Tepi: Bamboo tepi applicators are lightweight and durable, making them a popular choice for travelers and those on the go. They are the most common type of Tepi.

Wooden Tepi: Wooden Tepi applicators are often hand-carved from sustainable hardwoods like Palo Santo or Muiracatiara. They can be naturally hollow or drilled.

Metal Tepi: Metal tepi applicators are more modern and hygienic than wooden or bamboo tepis and are often made from stainless steel, brass or copper. When handled well they last forever.

Bone Tepi: Bone tepi applicators are popular among traditionalists and are in general made from animal bones like buffalo, deer or goat.